The Airline Project - v2
Hello fellow airline directors,
First of all happy holidays and a happy new year. I hope you all have had a very pleasant time.
When looking back at 2018 we have got a lot of new members in the forum, a brand new web site, a couple of new developers as well as a number of new releases which have all brought us closer to a better and more stable game. We have also started using itch.io and increased our marketing efforts which has helped us reach a broader audience.
Unfortunately we didn't have a release for Christmas, as we have had some unexpected delays and technical issues which pushed back the implementation of the upcoming features. We don't know yet when the next release will come. We still have some tasks on our to do list for the next update.

As for the past couple of weeks, we still have been working on the Employees, but we also started development on an improved In Flight Service system. The huge change is that the different levels of flight services are set on the airline level, where the user can set different services based on the length of the flights. This means no more need to set the services on each route. As you can see in the image we now allow you to set your services with a lot more depth. You can set what kind of beverages, meals or gadgets a passenger gets, and you can choose the quality level of the product. You can set some items to be free, while others are still paid. We still have some work to do on this, so the image you see isn't the finished product.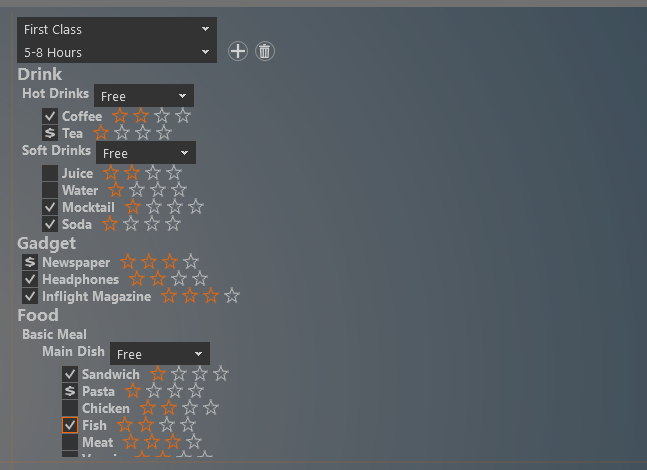 We promised our modders we'd share the new areaIDs you have to use for airlines and airports. You can now find these in the tutorial section of the site.
Best wishes,
The Devteam


Get The Airline Project - v2