The Airline Project - v2
Scheduling and Flying: The Full Play-Cycle Has Arrived
---
Hello fellow airliner directors! Yes, you read that right. The full play-cycle is here. This means the game is in essence playable, albeit still a bit rough at the edges. What exactly does that mean? It means we now have all required elements in place to actually play the game: you can purchase an airliner, set up a route, set ticket prices, schedule the flight, turn a profit which in turn allows you to purchase new airliners and expand your network.
Scheduling Flights
You may have seen this one before on our social media: the scheduling experience has received quite an upgrade compared to TAPv2. The gif bellow shows off some of the new features: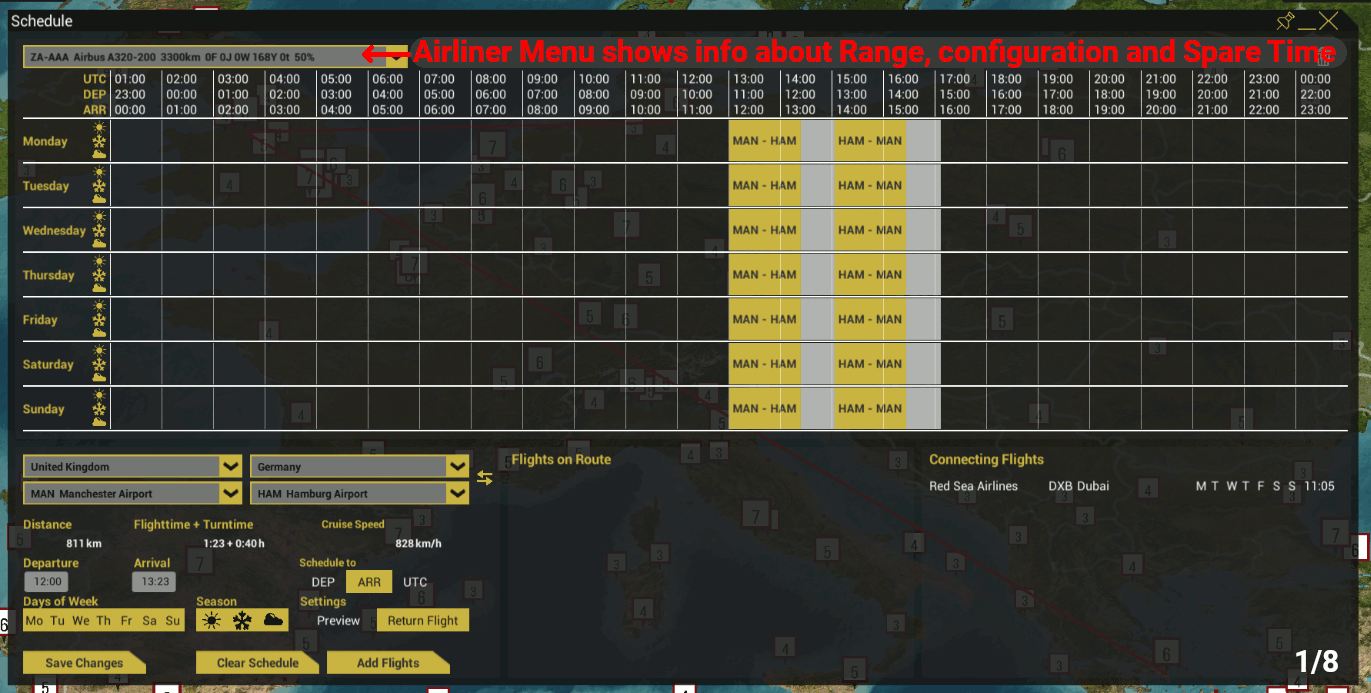 As you can see we have put some effort into improving the user experience for manual scheduling with features like a preview mode, showing all season schedules in a single window, scheduling to either departure time or arrival time, errors that tell you exactly what is wrong and more.
Full Play Cycle
We've been working on the flight simulation lately, in other words making the flights that you schedule actually fly. For now simulating a flight includes two components: Fuel consumption: In TAPv2 the fuel consumption was a very symplistic linear formula: the flight distance / max range of the airliner * fuel capacity. This of course results in a pretty inaccurate fuel consumption. As shown in the devlogs about the manufacturers, TAP NG is simulating range vs payload. How many passengers are on board, the weight of your cabin, your engines, taking off from hot and high airports, it will all have an influence on fuel consumption. For the time being, the cost of fuel is the only cost you have to operate a flight. Until we implement airline staff, landing and handling fees, maintenance.. But it's a start. Passengers: On the other hand, flights also have to earn money. Passengers can now choose what flight best suits their needs. Deciding factors include ticket price, local departure/arrival time, return flight options, comfort of the cabin. Business passengers are less price sensitive than holiday passengers, but are more sensitive to departure/arrival times and comfort. Do you see this?
Yes, our airline is making a profit. And you guessed it, that means the game has reached a playable state. As an extra, the gif also shows fluctuations in Kerosene prices.
What's Next
Now that the game has reached a playable state, development will suddenly appear to go faster as we are no longer working on core functionality but adding features on top. Having reached that state it's time to turn to our patrons. After having a go with the game in the current state, what feature would you like to see next to make the game more interesting in the short term? You can send me your wish via Patreon, or on our patron channel on Discord. I will pick a requested feature that is popular and makes sense to implement right now. There are two things that will be implemented shortly already: Financial reports and employees.
Stay Tuned!
The current latest version (V0.1.1.6; January) is available here: TAP NG DEV 0116 (note that this is not a fully functional game yet; the payment is considered a donation to contribute to our Feature Queue)

Stay tuned for more information on our social media:
Follow us on Reddit, Facebook, Twitter, YouTube.
Join the Discord channel if you want to have a chat with us and the community.
Or subscribe to our newsletter.
See you soon!
The Devteam
Get The Airline Project - v2