The Airline Project - NEXT GEN
Main Menu & Kickstarter Launch Date
---
Loading into the Game
Hello fellow airline directors! Since the last month we spent most of our time with our heads in the code, rather boring stuff. We set up how we load our data into the game. We set up a main menu and some loading screens. These loading screens mean it will no longer seem like the game is not responding to your actions.
We've shared the main menu on our social media before, so you may have seen it already. We took notes of the remarks and implemented many of them.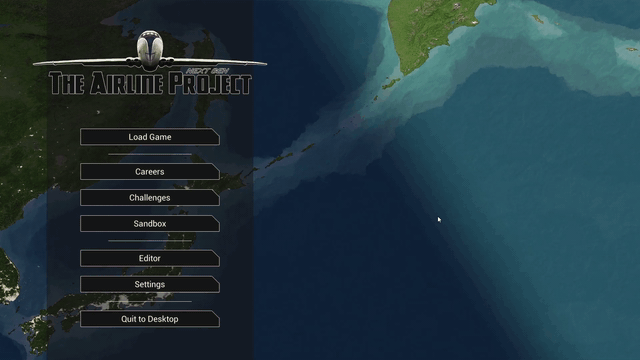 You may notice we reversed the quit button to be in line with the others. We reduced how much a button stretches as you hover it. The earth now spins a bit slower and you are able to pause it by clicking on it. In the future you will also be able to permanently pause it in the settings.
Note: the scrolling map lags a bit in this gif. In the game it runs smooth.

A New Map View: Countries
One of the strengths of having a map as the main view is that we can quickly convey a lot of different stats to the user. You've seen the map with the airport icons active a number of times. We now have a second view ready for use:
Clicking a country icon will give you more info on the country like tax rates and policies.
Kickstarter & News for people who donated to TAPv2!
We're currently working hard to get everything set up for the Kickstarter. We will launch it Wednesday September 23rd, save the date! I believe to run a successful campaign we need about 2000 backers. To reach this goal we still have to gain some fans. We have some general ideas how we can gain more traction on a larger crowd over the summer. But we still need your help too! Feel free to share the game with your friends, family and communities that may be interested in the game.
Finally, for the people who already donated to TAPv2: as promised, we will round up your donation to the next Kickstarter Tier and give you free access to its benefits. (Only if we reach our Kickstarter goal!) As stated before, this free access is not cumulative with additional donations on Kickstarter. If you do donate on Kickstarter, it will grant you access to the tier you donated to as well as your free access. Meaning that if you end up with two keys, you can donate one to a friend for example.
Due to GDPR law and Itch policy we can't directly send you a mail. To gain this free access we ask you to send us a mail to theairlineproject@gmail.com, using the mail you of your account you donated with requesting this free access. You may request this free access until July 31st. We will use this mail solely to give you updates and information on the Kickstarter, your itch.io or Steam key and other Kickstarter benefits applicable to your tier. Note that using a different mail from your donation account will be considered invalid. You can ask us to remove your mail from the list at any time, though it will also mean you loose your free access.

Other News
Last month we predicted we'd have a Steam Page up and running by now. Unfortunately it turns out Steam requires some more detailed work on the end of the developer than itch.io does. We will get it up as soon as possible so you can start wish listing it. :)
Stay Tuned
Follow us on Reddit, Facebook, Twitter, or our Forum.
Or subscribe to our newsletter.
See you soon!
The Devteam
Get The Airline Project - NEXT GEN