The Airline Project - v2

Hello fellow airliner directors! This month we will talk about our first implementation of UI that is here to stay. A picture tells a thousand words, so I will not hold it back any longer:

At the top left you can see your current airline and alliance. You will be able to switch to subsidiaries here, as well as open the alliance window.
At the top right you will be able to see what's going on in the world at the moment. You see your bank balance and last months profits (or losses), the fuel price, your reputation and the date and the current demand season. Right underneath you see three different icons: here you will see notifications, news and mail. As you can see we split them into these categories so you can easily ignore certain items as needed. Important notifications will show up in the gap between the two top menus.
At the bottom left you have all kinds of menus. Currently the network menu is opened, allowing you to open windows for the airports list, fleet, routes and flights.
The bottom right speaks for itself I guess. It allows you to pause or advance time.

Many users were complaining in TAPv2 that a lot of time and clicks were wasted going back and forth between screens. We believe they are in their right to complain about that. We say: no more back and forth! In TAP NG we introduce a windowed UI, meaning you can have multiple screens open at the same time, significantly reducing clicks. But we take it another step further:

Tabs System
On the right side you see some tabs. The top two tabs are standard and will always be there. The bottom 3 tabs are some example custom tabs. If you want to compare a couple of options, want to do something else for a while and later come back or if you just want a shortcut to a certain window you can use this tabs system. You can drag any window into this tabs section to hide the window for a while. Let me show you an example: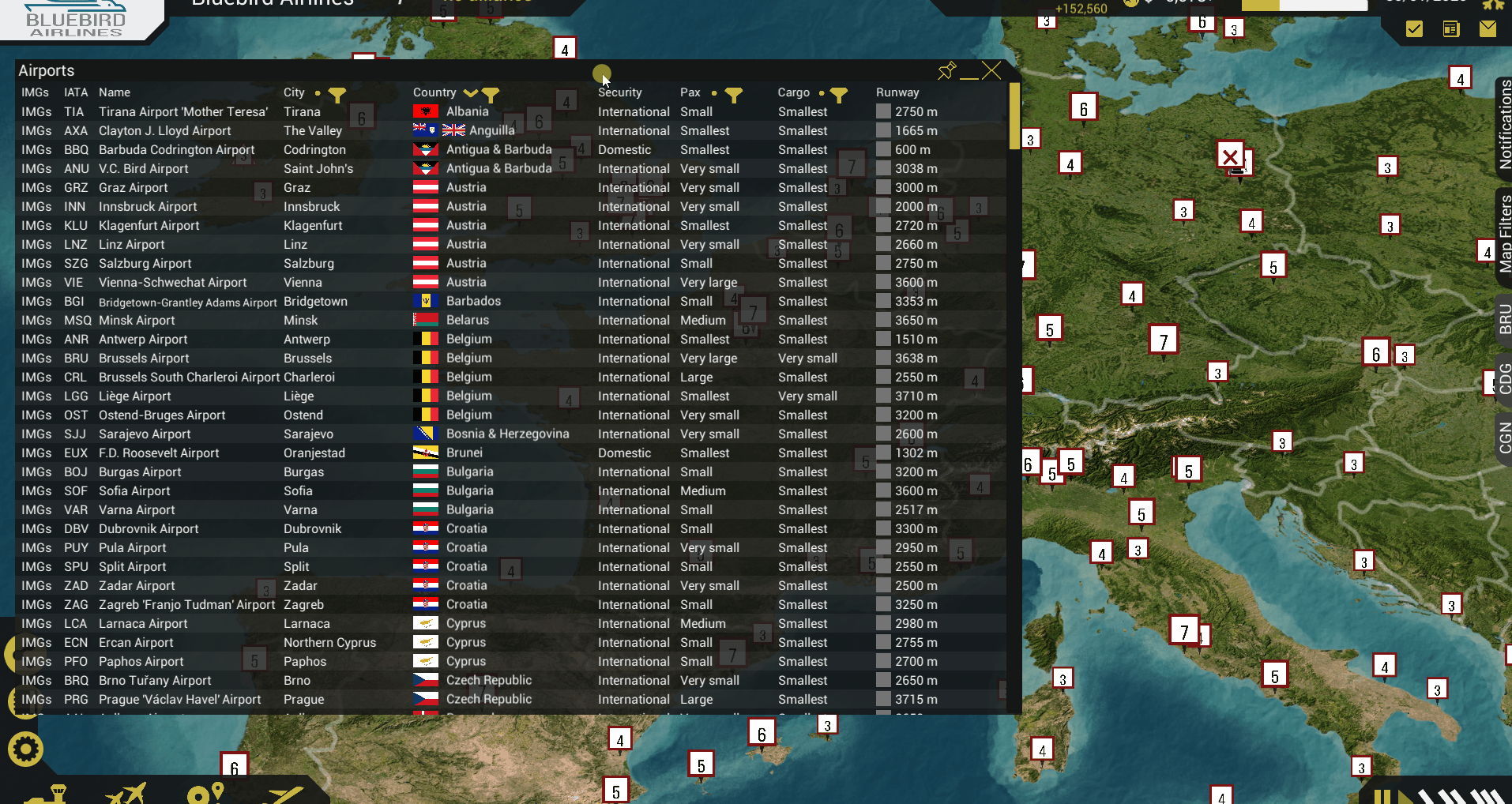 As shown you will be able to rearrange tabs to your preference. Tabbed windows will always reopen like you left them. You will also be able to pin tabs. This means the tab remains in place when you open it again, and thus you can't accidentally remove it. Besides this, pinned tabs will remain in place after saving and loading the game.

Tooltips
Finally we also updated the tooltips to be in a similar style of our current UI:
Other News
In the past month we've had issues with our forum not being able to send out emails. We didn't notice until someone pointed it out to us a couple of days ago. I'm very sorry if you sent questions to moderators or were waiting for an activation mail over the past month. They have not been sent out. The issue is fixed now, so it may be worth it to try again. If something similar happens again, feel free to contact us via any social media!
We applied for a Steam page this week. So hopefully you will be able to wishlist our game on Steam in the coming month!
Stay Tuned
Follow us on Reddit, Facebook, Twitter, or our Forum.
Or subscribe to our newsletter.

Feel free to share the existence of our game with friends, family or online communities that may be interested!



See you soon!
The Devteam
Get The Airline Project - v2