The Airline Project - v2
The Airline Project - NEXT GEN
---

TAP NG Logo - by Grant Roberts
Welcome to the next generation
It was October 2019, the days steadily grew shorter and the temperatures started to drop. I spent almost all of my free time in my room debugging, fixing and rewriting code for V2.14 since its release in August. Patches came and went. On average one patch every 1 - 2 weeks. Still, no end in sight. The reason? TAPv2 was originally not built for the way we handle flights and calculations in this version. We can go on for weeks rebuilding the core of the game, while occasionally (read: quite often) breaking the game.
Or
We could rewrite the game from scratch. And that's what we did. While we were at it, we decided to go all in. We chose to use Unity as our game engine instead of WPF. This gives us a couple of interesting advantages. We can create a more interesting user interface, port the game more easily to other platforms like MacOs or Linux, maybe even install a multiplayer. (None of these are confirmed yet, but the possibility is there) I started to work full time on the game since December last year. We hired a freelance artist to help us out: Grant Roberts will guide us through design choices and create the needed assets. The logo at the top is his first work he did for the project.
We learned from the mistakes that were made in Tapv2. The core of the game is now properly designed to handle all features. We made a list of all previous requests and added them to our to do list if it is within the capabilities of the game. (Now is a great time to share your thoughts if you have some awesome ideas by the way) We learned what features work, and what features don't. Or Which features needed some polishing.
Your New Office
Like we said, Unity will allow us to set up a more graphically pleasing setting for the game. We decided to make the world map your main view. You already saw the world map in the teaser gif in the last blogpost. You were able to see how the countries change shape over time. This is a feature that has been on our wish list for a long time. It really puts you in the time frame you selected to play the game in. Can your airline survive the devastating effects of WWII in the 40's? At what side of the iron curtain do you want to play in the cold war? What's your strategy handling with the decolonization in the 50's and 60's? Not only will you see the effects in numbers on your financial window, but you will also see the changes on the map. Yet again increasing immersion in the game.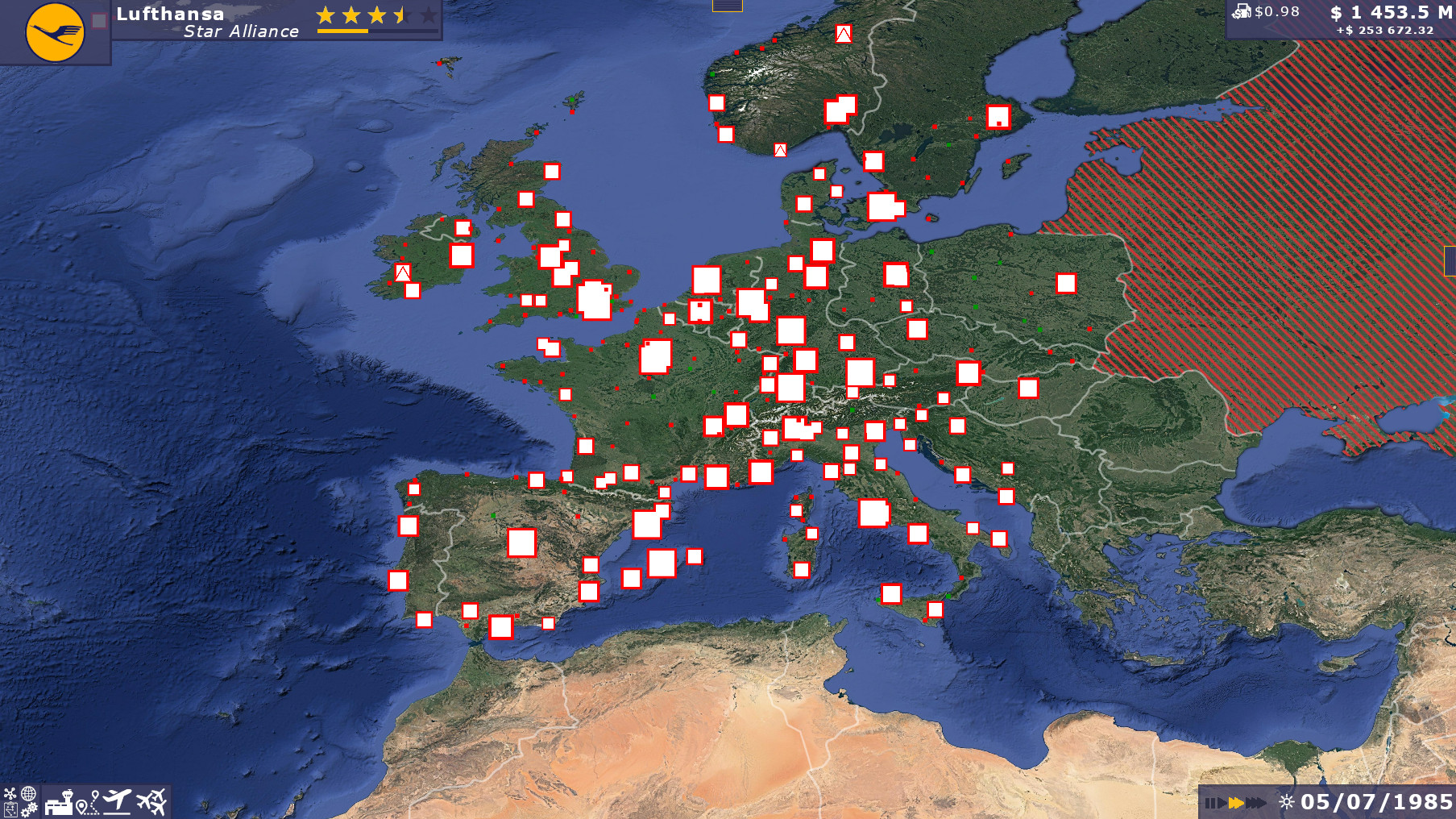 Here is a new teaser showing airports in Europe and some basic layout for the UI. Please note this is a very early development version, our artist has yet to start working on anything in-game. We will show off more features as development progresses.
Kickstarter Campaign
We would have loved to continue working on the game for a couple of months before showing you anything rather than showing this unfinished and very WIP image. But we couldn't leave you in the unknown for so long. The news has to be spread at some point.
Developing a game this size full time and paying an artist is expensive for a start-up. That's why we're asking for your support. We will be launching a Kickstarter in a couple of weeks. We'll share the exact date later, though we expect it to be in 6 – 10 weeks from now. Hopefully we'll have some interesting features to show by then. We prefer to remain independent so that we do not have any obligations towards a publisher. This further increases importance of a successful Kickstarter.
**I have donated to TAPv2, what happens to that money? Thank you very much for donating and believing in us! Every person who has donated to TAPv2 automatically receives the same perks as the corresponding tier on Kickstarter. Your donation gets rounded up to the next tier. You will receive more information on your e-mail you donated with when we're closer to launching the Kickstarter campaign. Unfortunately, your donation is not cumulative with any additional backing you make on Kickstarter as we don't have a proper way of tracking that.

**Is TAPv2 dead now? You can consider TAPv2 our prototype. We've learned what features work or don't work, or what features need polishing. TAPv2 will likely continue to receive some small patches, but will no longer be actively developed. It will at least remain available until we release our Early Access. What we do with TAPv2 afterwards is uncertain.
**How about Pjank42 (Christian), the father of TAPv2? Christian has worked several years on this game in his free time, and created a beautiful basis for what we're planning to do. We acknowledge that. We have a deal with Christian so that he receives a share for his work he delivered in the past.
Stay Tuned
In the past year we became somewhat inconsistent as to when we release a new devlog because of busy times. We will be sharing one devlog every month from now on, in the last weekend of the month. It's likely we will have more devlogs as we approach the Kickstarter.
You will see us updating our website and social media to have a consistent style. We have set up a new Twitter account where you can follow us for updates. You can also stay tuned on our Facebook, Reddit or on our Forum.

We will be setting up a mailing list that you can join in the near future.

See you soon!
The Devteam
Get The Airline Project - v2